₱1,650.00 ₱3,850.00
Just got that itch that won't ever go away? If you're either sick and tired of other treatments for head lice, like chemical shampoos and electric zapping combs, it is also more dangerous for young children and harsh on the skin and scalp. 
It makes you feel itchy just reading this, doesn't it?
Finally remove that dreaded head lice, with the V-COMB™ Innovative Head Lice Solution completely Allergy-free & Chemical-Free! 
It is easy to use natural lice treatment on the market today. You will no longer have to subject your family to chemical or pesticides found in lice shampoo or other lice treatments for head lice removal. 

the V-Comb is a reusable and allergy-free head lice comb for both children and adults. This gentle, yet effective, treatment is safe for home use and eliminates both head lice and their eggs (nits) without the need for harmful chemicals or special lice shampoos. 

WORKS VERY WELL AGAINST SUPER LICE! The current epidemic of super lice (lice that have become immune to common chemical treatments) are being found throughout the United States and have developed immunities to typical lice treatment kits and lice shampoo. Use this head lice comb to eradicate super lice!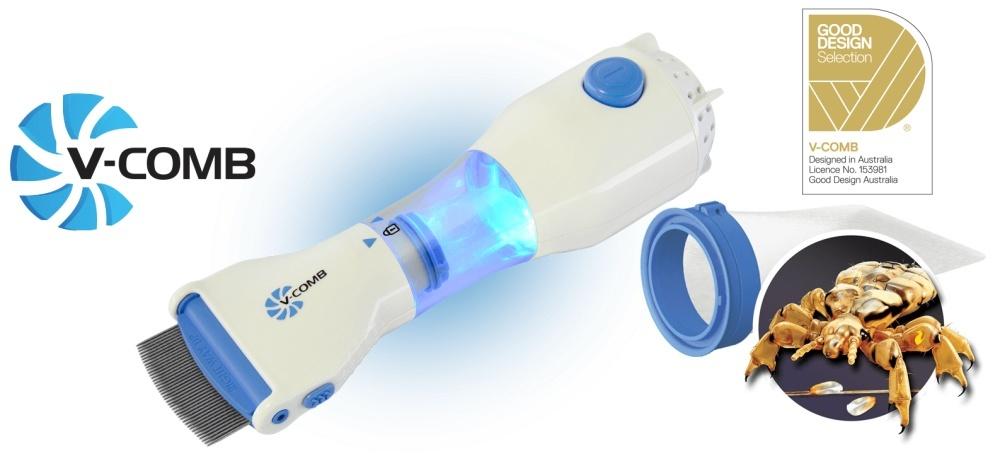 Benefits:
CHEMICAL FREE AND PESTICIDE FREE, Natural lice treatment for the whole family. The V-Comb is natural lice comb and FDA registered device, which instantly vacuums head lice and eggs (nits) INCLUDING SUPER LICE!

EASY TO USE: ALL LICE AND EGGS CAPTURED IN THE DISPOSABLE CAPTURE FILTER, which allows secure and eek-free disposable. 4 Capture filters come in the box!

BEST LICE COMB FOR YOUR FAMILY. From early lice detection to regular check-ups for head lice, The V-Comb is the most technologically advance natural lice comb on the market

SMOOTH AND GENTLE ON SCALP. Rounded stainless steel teeth with adjustable combing angles as well as a compact and ergonomic designed electronic head lice comb