Be on your way to a brighter smile in just 5 minutes!
Natural White's 5 Minute Tooth Whitening System is fast and easy to use. It's patented duplex mouth tray is soft & flexible and allows you to whiten both upper and Lower teeth at the same time.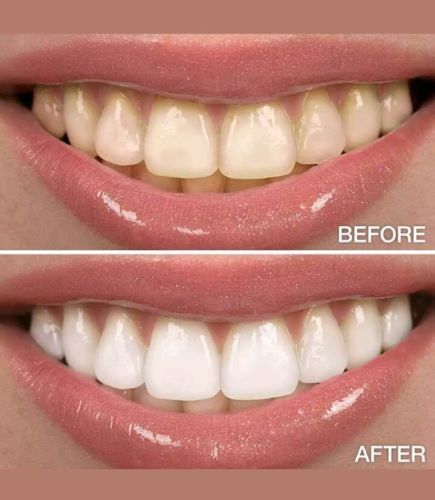 Directions for Use
Step 1: Apply the Accelerator by pressing it against the tooth surface to be white. Avoid closing your mouth, as this may remove the Accelerator liquid from your teeth.
Step 2:  Quickly place the prepared Duplex Mouth tray into your mouth. This will allow the Accelerator & Gel to interact and start the whitening action. Leave tray in the mouth for 5-10 minutes.
Step 3: Remove Duplex Mouth Tray and brush your teeth with water to remove any residual gel. now brush with the Whitening Toothpaste for a brighter, whiter smile.
Ingredients:
Accelerator: Water, ( Aqua), Sodium Chlorite. Whitening Gel: Water( Aqua), Glycerine, Carbomer, Polysorbate 20, Citric Acid, Sodium Hydroxide, Flavor ( Aroma), Methylparaben. 
Whitening Toothpaste: Water ( Aqua), Hydrated Silica, Glycerine, Sorbitol, Pentasodium Triphosphate, PVP, Titanium Dioxide, Flavor ( Aroma), Cellulose Gum, Sodium Lauryl Sulfate, Sodium Methyl Cocoyl Taurate, Sodium Benzoate, Sodium Saccharin, Sodium Hydroxide.
Contraindications & Cautions:
Keep out of reach of children.
Products containing peroxide are not recommended for anyone under 12 years of age, or individuals with gum disease, gingivitis, bleeding or severe receding gums, tooth sensitivity, pregnant or nursing mothers.
Use for periods of longer than 14 days is to be only under the supervision of a dentist.
Avoid direct contact of the active surface of the tooth whitening product with the gums and/or salivary flow. If irritation ( such as redness, swelling, soreness ) of the gums or the mouth occurs, discontinues use and consult a dentist; Avoid swallowing. Avoid contact of the product with the eye.
Do not use this product if you are allergic to any of the ingredients.
Store in a cool place away from heat.
Dental Work: This product will not harm dental work, such as caps, crowns, veneers, dentures or fillings. This product will only whiten natural teeth.